AML Compliance: CDD/KYC on-boarding flexible and robust enough for institutions of all sizes and types
Making terrific AML software solutions available to financial institutions of all sizes and styles is one of our goals at AML Partners. One of our recent new customers is a prime example of that.
This customer, a New York branch of an international bank, was seeking an AML software solution for CDD/KYC on-boarding, and they selected SURETY-CDD. With fewer than a hundred client accounts at this particular branch, this institution wanted high quality CDD on-boarding that was not only configurable and robust but that was also appropriately flexible in terms of licensing fees, quick and easy installation, and the staff needed to operate it effectively on a daily basis.
All of those things—effectiveness, efficiency, robustness, and affordability—are features of SURETY-CDD and the licensing structure of AML Partners. SURETY-CDD and AML Partners are a great fit for this financial institution on all counts.
Specifically, SURETY-CDD provides an extraordinarily full-featured CDD/KYC on-boarding solution that boasts a fully integrated and configurable Question Management System, dynamic workflows, and dynamic Risk Modeling. And it includes automated screening for sanctions and adverse media through an interface with many data-service subscriptions.
For this new client, being able to configure the Question Collection precisely to its specialized book of business and distinctive geographic service area was a top selling point. And SURETY's dynamic workflow capabilities meant that the Compliance professionals at this institution could duplicate their existing workflow and on-boarding processes within SURETY's fully digital environment. Another top selling point for this boutique branch was the in-house configurability of SURETY CDD—no coding or intensive IT commitment required.
At AML Partners, this kind of attention to each customer's circumstance and needs drives our software design and our business model, and we serve customers in the U.S. and around the world. We deliver AML software solutions to big institutions and small ones, to institutions that have widely varied books of business and very targeted books of business. And we offer licensing and installation packages to meet the needs of these distinctive institutions and their global and regional specialties.
At AML Partners, we don't just focus on terrific AML software solutions. We focus on terrific AML solutions suitable for every type of institution.
_____________________
SURETY CDD: KYC/CDD On-boarding for AML Compliance
AML Partners designs terrific AML Compliance software solutions for financial institutions of every size and type. The SURETY line of AML Compliance solutions  provides a level of configurability and dynamism that meets the unique needs of each customer and their various books of business, their varying Risk appetites and analyses, and their varying approaches to workflows and user roles. Contact us today for a personalized demonstration of our AML software solutions and our various licensing and implementation options. We offer SURETY Eco, the end-to-end AML ecosystem; SURETY-CDD for CDD/KYC on-boarding; SURETY Behavior Monitoring for robust transaction monitoring, case management, and subpoena searches such as FinCEN314a; and SURETY Sanctions Screening for high-level automated screening with advanced whitelisting options.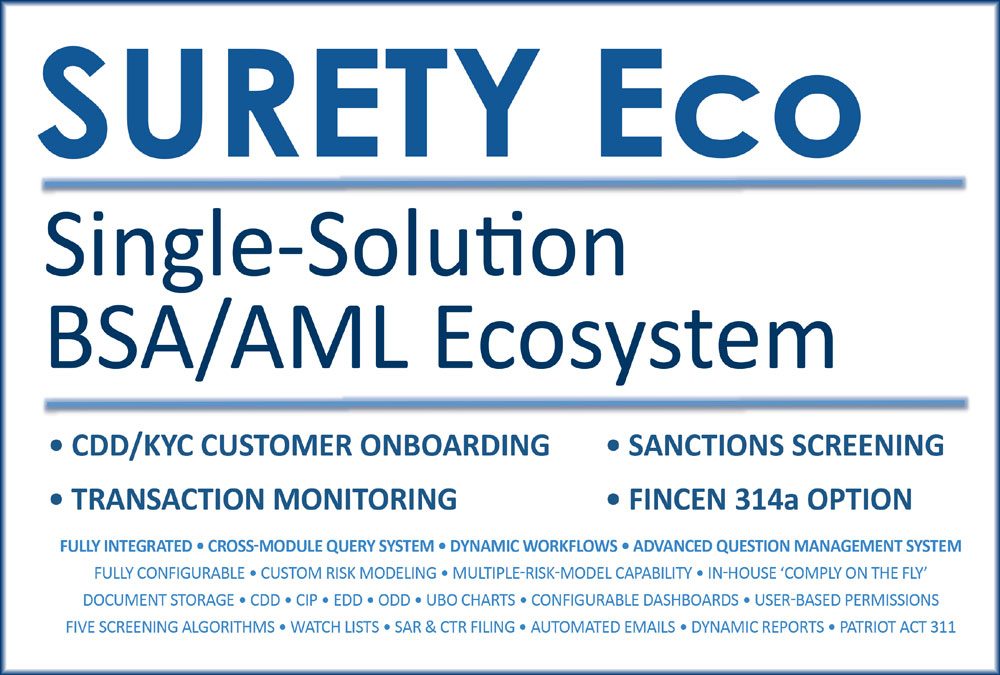 SaveSave
SaveSave
SaveSave